Contact Number &

WhatsApp

 

+41(0)79 339 95 43
 
Tunze Doc Skimmer 9012 - pour aquariums de 200 à 1200 litres
Internal skimmer for aquariums up to 1200 liters
Tunze Doc Skimmer 9012 - pour aquariums de 200 à 1200 litres
Internal skimmer
The large Comline® DOC Skimmer 9012 is designed for use in mixed seawater aquariums / soft coral aquariums from 200 to 1,200 liters (53 to 317 USgal.), or for sensitive reef biotopes with hard corals up to 500 liters (132 USgal.). It operates according to the TUNZE® flash skimming principle and acquires the water through an efficient surface suction with a surface film removal, and can therefore also be used as a "stand-alone" solution in the aquarium. The TUNZE® Foamer generates large volumes of fine air bubbles with a diameter between .1 and .3 mm (.004" - .012") and is especially quiet during the operation. Silicone buffers on the skimmer prevent the transfer of vibrations to the aquarium glass pane. The Comline® DOC Skimmer with a Magnet Holder for glass up to a thickness of 15 mm (2/3") is delivered installation-ready.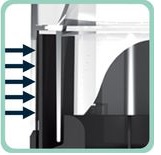 Aspiration de surface avec élimination du film gras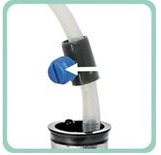 Réglage d'air et silencieux pour un fonctionnement particulièrement discret.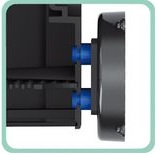 Fixation par Magnet Holder pour vitres jusqu'à 15 mm
VIDEO
Technical data:
Recommended, depending on tank load, from 200 to 1,200 liters (53 to 317 USgal.) of sea water.
Immersion depth: approx. 255 to 285 mm (10 to 11")
Skimmer cup volume: 0.7 liters (0.18 USgal.)
Air capacity: approx. 400 l/h (105 USgal./h)
Energy consumption: 13 W, 230V/50Hz (115V/60Hz)
Dimensions (L x W x H): 140 x 110 x 415 mm
(5.5 x 4.3 x 16.3 in.)
Silence Magnet Holder up to a glass thickness of 15 mm (1/2")
Instructions for use:
   Deutsch, Anglais, Francais (x9012.8888)
For more information, visit the official website of the manufacturer.