Contact Number &

WhatsApp

 

+41(0)79 339 95 43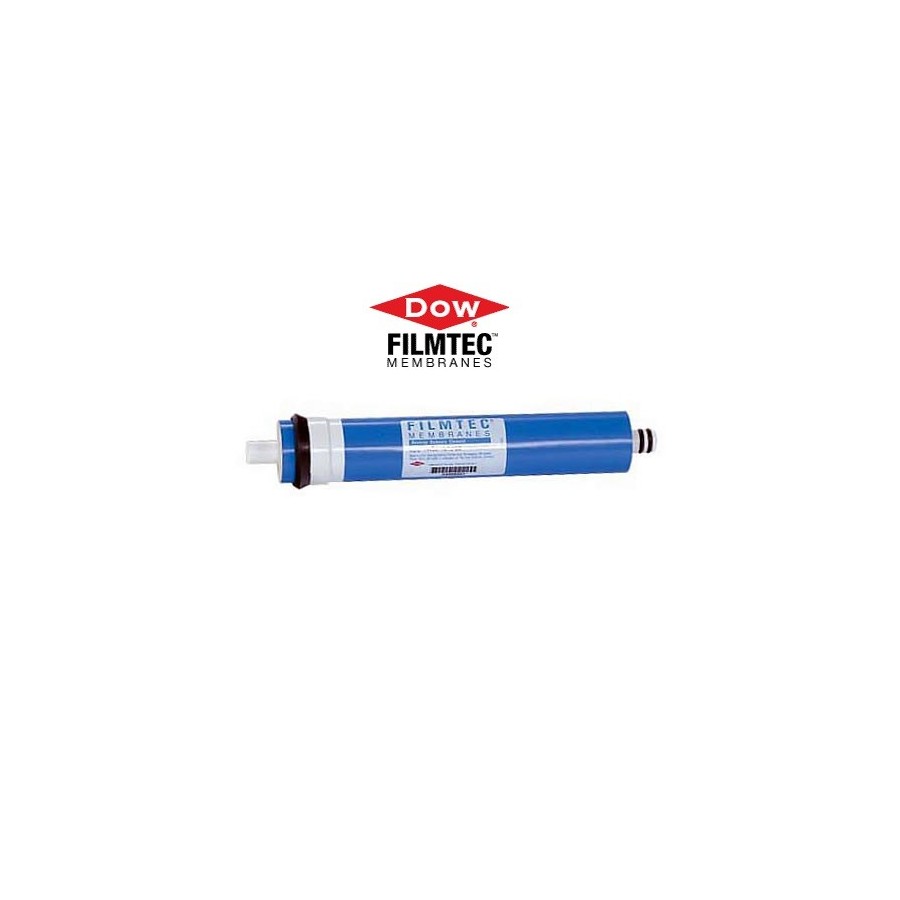  
Osmotic membrane Filmtec 75 GPD - 275 Lt / Day
Osmotic membrane Filmtec 75 GPD - 275 Lt / Day
Osmotic membrane Filmtec 75 GPD - 275 Lt / Day
The FILMTEC membranes produce 20% more 'of water at only 3,4 bar pressure compared to the other membranes of equal magnitude tested with a pressure of 4 bar.
FILMTEC membranes from Dow Chemical are to be considered the top in terms of quality, efficiency and durability.
These membranes can be used in all osmosis systems with conventional vessel in 1812.
Membrane tested and certified to ANSI / NSF Standard 58.
The maximum production of FILMTEC membrane TW30 - 75 is about
275 LT / DAY, calculated in the presence of the following parameters ideals: TDS <250 ppm inlet, temperature 25 ° C and pressure of 3.4 bar network. A deviation from these parameters can influence the actual production.
Filmtec membranes are made by Dow Chemicals with the highest quality materials (Polyamide Thin Film Composite) and with high quality standards of production that provide filtration and superior durability. The membrane is stored dry for a longer life and greater ease of transport.
Technical information model FILMTEC TW30 - 1812-75 gpd:
Width 44.5 mm
Length 298.0 mm
Capacity 12 lph +/- 20% *
Rejection 98%
The rejection and the production of the permeate (flow) are calculated taking into account the following operating conditions: 250 ppm TDS incoming water, temperature 25 ° C, pressure 3.4 bar food.
Operating parameters:
Maximum pressure 21 bar
Recommended pressure 3.5 to 4 bar
Maximum operating temperature 45 ° C
Minimum flow of the concentrate 4-5 times the flow of the permeate (ratios less increase the precipitation rate)
Concentration masses of 500 ppm total dissolved salts (in case the salinity was highest use softened water)
Maximum amount tolerable chlorine 0.1 ppm for a short time (we recommend the total removal)
Ph working 1:00 to 13:00 (high pH levels affect the duration)
Warnings and Precautions:
Do not use the water produced after inserting the new membrane. Discard the first 30 liters of water in order to remove traces of harmful product in which the membrane is preserved.
Do not use the water produced by the membrane for drinking or food without having been mineralized in order to bring the dissolved salts to correct levels.
The membranes have a limited resistance to contact with chlorine (bleach). Continuous exposures cause irreversible damage.
It is recommended to change the prefilters osmosis plant at least every six months to ensure the efficiency and durability of the membrane for several years. In addition it is recommended that the backwash monthly to prevent mineral fouling and have the highest efficiency.